Chalked Brick
Chalked Brick
Chalked Brick is on trend with its rustic appearance of natural pale concrete brick with cracked detailing. Part of the Quarry Collection by Showerwall it is naturally inspired with a matte textured finish adding an extra dimension to touch which works well as a striking decorative wall.
Available in a choices of widths, 1200mm, 900mm & 600mm
Strong 10.5mm thick moisture resistant MDF core
Water resistant – suitable for bathrooms and showers
Each panel is 2440mm in height
Proclick tongue & groove mechanical locking system
Watertight 15 year guarantee
No grouting required
Hygienic and easy to clean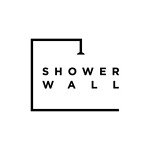 Chalked Brick Showerwall is great for any interior wall when looking to create a neutral rustic feel. With a matte finish, the natural pale tones of the brick with eroded detailing creates a unique effective look. The textured nice to touch surface adds an extra dimension to your wall for life like effect.
Chalked Brick tongue and groove panels are call Proclick and come with a machined edge to make joining the panels quick, easy and watertight with the need for trims. Simply seal with recommended Showerwall sealant.
Showerwall in Chalked Brick is remarkably versatile as it can be fitted in a variety of applications because of its strong, durable qualities, including your bathroom or shower enclosure wall. Hard-wearing with double-sided high-pressure laminate (HPL) and moisture resistant MDF core it is long-lasting. When fitted it forms a watertight seal making it a perfect alternative to bathroom tiles. The hygienic choice with stain-resistant properties and lack of joins making it the perfect low maintenance bathroom tile alternative with no messy porous grouts to contend with.
What is Proclick technology?
An engineered mechanical locking system, Proclick is engineered to provide a watertight, seamless finish that is close to invisible. Proclick allows installation to be quicker than other alternatives with an easy click design that locates quickly and easily into place without the additional costs of joining trims.
Chalked Brick bathroom panels are available in 600mm (579mm finished) and 1200mm (1179mm finished) widths in the Proclick variant. 900mm may be available upon special request and is supplied made to order.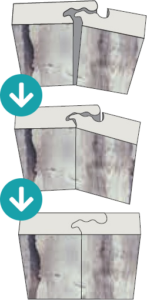 Chalked Brick tongue and groove shower wall boards come in 2 different sizes – 1200mm, 600mm, together with a tongue and groove Proclick. Square edge Chalked Brick is available in 1200mm and 900mm form. With square edge versions you get full workable lengths. The Proclick T&G Chalked Brick has a slightly reduced workable length of 1179mm on 1200mm panels and 579mm on the 600mm shower boards which should be taken into account when calculating installation requirements. Chalked Brick shower boards are made of rigid 10.5mm thick MDF moisture resistant timber with a tough waterproof high pressure laminate surface front and back. The Chalked Brick Showerwall panel is a high quality, strong and durable wall panel which will stand up to your daily bathroom rigours. Come complete with a 15 year guarantee for peace of mind when installed and fitted to manufacturer guidelines.
Variations
MSSPCHBRPCZZ29000 – Chalked Brick 600mm Proclick (SW56)
MSSPCHBRPCZZ29000 – Chalked Brick 1200mm Proclick (SW56)
MSSPCHBRPCZZ29000 – Chalked Brick 900mm Square Edge (SW56)
MSSPCHBRPCZZ29000 – Chalked Brick 1200mm Square Edge (SW56)
Panel size availability chart
Below is a table displaying the variety of Chalked Brick Showerwall sizes and edges available. The finished face is the final face of the panel visible.
| Panel size | Height | Thickness | Finished width | Weight |
| --- | --- | --- | --- | --- |
| 600 Proclick | 2400mm | 10.5mm | 579mm | 12KG |
| 900 Square Edged | 2400mm | 10.5mm | 900mm | 15KG |
| 1200 Proclick | 2400mm | 10.5mm | 1179mm | 24KG |
| 1200 Square Edged | 2400mm | 10.5mm | 1200mm | 24KG |
Chalked Brick may be available in a 900 Proclick on a made to order basis. Please contact us for more details or how to order.

Manufactured in the UK
High quality panels engineered to the highest standards

15 year guarantee
Rest assured with long term peace of mind
Additional information
| | |
| --- | --- |
| Dimensions | N/A |
| Profile | Proclick, Square Edge |
| Size | 1200, 600, 900 |
| Brand | Showerwall |
| Country of Manufacture | United Kingdom |
| Thickness | 10.5mm |
| Length | 2440mm |
| Width | 1179mm Proclick, 579mm Proclick, 900mm Square Edge, 1200mm Square Edge, |
| Pack Size | Individual |
| Colour | Grey |
| Range | The Quarry Collection |
| Sub Range | Concrete |
| Features | Click system, Cost effective, Easy clean, Easy to install, Fire rated, FSC certified, Hygeinic, Mould resistant, Hard wearing, Suitable for wet and dry areas |
| Room Suitability | interior walls & bathrooms |
| Waterproof | Yes |
| Style | Stone |
| Finish | Synchro |
| Material | High Pressure Laminate, Moisture Resistant MDF |
| Fire Rating | EN13501 |
| FSC | FSC – TT-COC-001805 |
| CE Marked | Yes |
| Code | MSSPCHBRPCZZ29000, MSSPCHBRPCZZ29000, MSSPCHBRPCZZ29000, MSSPCHBRPCZZ29000 |
Showerwall
Manufacturered in the UK, Showerwall produce a range of wide wall panels as a cost/time effective, waterproof alternative to traditional tiling for your bathroom and home. Showerwall panels come in a variety of finishes including marble, acrylic and other custom decorative finishes.