Zarata Stone Widewall
Zarata Stone Widewall
Out of stock
The Zarata Stone wall panel from the PROPANEL® WIDEWALL Super-Strong range is a modernist stylish appearance, perfect for any feature or wet wall in a bathroom or shower. Tongue and groove profile give a flush finish when installed with fewer joints due to the wider width.
Modern Cool Grey Colour
Panels can be purchased individually
WIDEWALL 400mm – fewer panels, fewer joints
Super-Strong 8mm thick panel
Coverage of 1.04m²
Each panel is 2600mm x 400mm
Quick and simple to install
No grouting required
Hygienic and easy to clean
Class 1 fire rated
100% Waterproof
100% Recyclable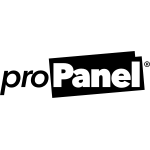 PROPANEL® Zarata Stone Widewall 8mm x 400mm x 2600mm
Incredibly strong and wider bathroom wall panel with warm natural tones of stone
The Zarata Stone is part of the premium Widewall range of panels from PROPANEL® featuring cool, greyish tones of natural stone. The Zarata Stone is 400mm wide panel making it 150mm bigger than traditional bathroom cladding, meaning fewer panels are needed to cover the same area with traditional cladding. This means fewer joints and a much more seamless finish for your wall. Fewer joints are always positive in wet wall situations for your peace of mind. The panel is 2600mm in length and 8mm in thickness.
8mm thick 'Super-Strong' core structure
The base-board of the Zarata Stone panel features a super-strong PVC core which is incredibly robust, especially compared to traditional 8mm thick decorative wall cladding.
A natural stone finish with cool tones throughout the panel is a beautiful decorative option for many walls, including the wet walls of bathrooms and showers.
Wider 400mm panel
The 400mm width is almost twice the size of regular 250mm PVC wall panels. For 2 linear metres of wall, you will need 5 panels versus 8 panels for traditional 250mm wall panels.
Premium brand quality
Manufactured by PROPANEL® the Zarata Stone is a quality panel trusted by professional tradesmen with a 10 year replacement guarantee for peace of mind. Part of the premium 'Super-Strong' PROPANEL® Widewall range of decorative panels with the product code WW400.
The Zarata Stone cladding panel is suitable as a decorative board in many rooms especially wet areas including:
Bathrooms
Shower rooms
Cloakroom Toilets
Kitchens
Utility Rooms
Bedrooms
Living & Dining rooms
Salons & Barbers
Cafes & Restaurants
Caravans & Motor-homes
Boats
Horseboxes
Porches
Additional information
| | |
| --- | --- |
| Dimensions | 2700 × 250 × 8 mm |
| Brand | PROPANEL® |
| Range | Widewall |
| Style | Stone |
| Colour | Grey |
| Finish | Matte |
| Material | PVC |
| Width | 400mm |
| Length | 2600mm |
| Thickness | 8mm |
| Pack Size | Individual |
| Panel Size | 2600mm x 400mm x 8mm |
| Panel Coverage | 1.04m² |
| Panel Type | Wall Panels |
| Size | 400 |
PROPANEL®
PROPANEL® is a market leader in decorative PVC cladding panels for both ceilings and walls. With a wide range of the latest styles and innovations, their panels are a premium brand quality that stands out from the competition by their unique strength and quality. What's more, they offer a variety of long-lasting guarantees for peace of mind, unlike other poorer imitations.