Single Inlay Chrome Cladding 8mm x 250mm x 2700 mm
Single Inlay Chrome Cladding 8mm x 250mm x 2700 mm
In stock
The PROPANEL® Single Inlay Chrome 8mm cladding panel is one of our most popular panels particularly for use on ceilings.
It offers a stylish subtle alternative to the regular white gloss cladding panels and helps to hide the joins due to a thin 7mm chrome line running along the panel join.
Panels can be purchased individually
Suitable for bathrooms & ceilings
Coverage of 0.675m²
Each panel is 2700mm x 250mm
Quick and simple to install
No grouting required
Hygienic and easy to clean
100% Waterproof
100% Recyclable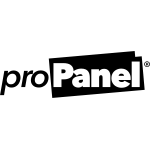 8mm Single Inlay Chrome Cladding
Have a stylish, effective finish with 8mm single inlay chrome cladding suitable for both ceilings and walls.
PROPANEL® Single Inlay Chrome 8mm is one of our more popular ceiling cladding panels. Why settle for a dull white painted plastered ceiling? The Single inlay chrome panels are a white gloss panel with a stylish, slim chrome line running through the panel edge. 
The gloss white panel has a The slimline chrome strip of the single inlay panel runs along the join line. This disguises the join of a regular white gloss cladding panel. The chrome inlay helps to break up the clinical feel of a plain white cladded room.
Instead of being just a standard white gloss panel, the single inlay chrome incorporates a shimmering single chrome strip. This is embedded within the panel surface.
The chrome strip, which measures 7mm in width, is positioned specifically along the joining edge of the panel. With a tongue and groove profile edge, the chrome strip helps to hide the join line usually visible on a standard white cladding. It leaves a clean, smooth flat surface without any interruption unlike the alternative grooved cladding panels used on ceilings.
The remaining 243mm surface of the panel remains gloss white. This provides the desired hygienic style of a ceiling or bathroom. Utilising chrome within a ceiling, helps mirrors light and highlights the rest of your room, it adds a touch of extra style to any ceiling and helps match the usual chrome finish of bathroom fixtures and fittings.
Single Inlay Chrome is very easy to install. It can be cut as easy as simply using a standard utility knife with a straight edge tool. The cladding panels can be glued, stapled or screwed into position. With 8mm single inlay chrome the panel is more rigid than it's 5mm counterpart. This makes for easier ceiling installation.
Spot lights are very easy to install into the single inlay chrome 8mm. Simply use a standard cutter to match the size of your spots and it will cut effortlessly through the board once measured and positioned correctly.
What do I need to clad my ceiling?
Below we have listed an example to give an idea of what is needed to install a ceiling, with a room size of 2 x 2 metres.
How many single inlay chrome panels do I need?
You will need 8x single inlay chrome 8mm cladding panels. If no mistakes in cutting measurements are made. We usually advise taking a panel or two extra for mistakes to make sure you have the same batch colour from manufacturing and to prevent your install being held up.
How will I fix my panels and what should I use?
With the size of a 2 x 2 metre room you will need 4 adhesives. Alternatively you can use screws or staples in the tongue and groove lip which will be hidden after installation. We still advise fixing the first panel with screws or staples for added strength when installing ceilings.
Do I need any trims?
PVC cladding trims are usually installed for decorative purposes with a ceiling and are optional. They help to finish off by hiding any inconsistent edges from the cutting stage, if silicone does not give the desired finish or when your walls are inconsistent. However trims can add an additional styled finished to compliment the panels, such as a chrome outline around the ceiling.
In this case, the dimensions of the room's ceiling would mean 4x coving, quadrants or end caps to complete trimming the ceiling perimeter.
Additional information
| | |
| --- | --- |
| Dimensions | 2700 × 250 × 8 mm |
| Brand | PROPANEL® |
| Colour | Chrome, White |
| Pack Size | Individual |
| Style | |
| Panel Coverage | 0.675m² |
| SKU | PPP8GLWH822 |
| Panel Size | 2700mm x 250mm x 8mm |
| Length | 2700mm |
| Material | PVC |
| Fire Rating | Class 1 |
| Range | PRO8 |
| Thickness | 8mm |
| Panel Type | Wall Panels |
| Room Suitability | interior walls, bathrooms & ceilings |
| Size | 250 |
PROPANEL®
PROPANEL® is a market leader in decorative PVC cladding panels for both ceilings and walls. With a wide range of the latest styles and innovations, their panels are a premium brand quality that stands out from the competition by their unique strength and quality. What's more, they offer a variety of long-lasting guarantees for peace of mind, unlike other poorer imitations.